Live Psychics and Mediums
To speak with one of Russell's Team of gifted Psychics and Mediums you can either call and book your reading by calling FREE on 0808 206 4514 or by calling 0906 539 1420 (calls charged at £1.53/minute, 18+).
Feel free to browse the psychics below, to connect to your chosen reader - simply dial direct on 0906 539 1420 (£1.53 per minute, 18+) and enter their Pin number; or call the FREEPHONE booking line on 0808 206 4514 and an agent will book your reading by debit or credit card and connect you directly to your chosen reader, or help you locate the best reader to give you advice on your questions.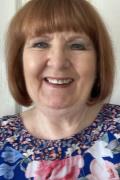 Introducing Isobel
Sorry, I'm not working at the moment
What Isobel does
Isobel has been working as a professional Medium for almost 30 years and has a reputation for being one of the best. Isobel is also a natural Clairvoyant who is particularly popular with looking at relationships and work issues. Isobel is a very honest reader who will tell you exactly what she sees however difficult.
Pre-Book a reading with Isobel
Clairvoyant, Medium
01-07-2015 18:00 to 22:00
05-07-2015 16:00 to 18:00
05-07-2015 11:00 to 14:00

You can pre-book a reading with Isobel by calling 0808 206 4514.
---