SPEAK TO A PSYCHIC - 5 EASY WAYS

Click here

to make a booking

-

use minutes anytime.

Connect instantly call: 0906 539 1430 (£1.50/per minute)
Call a receptionist on: 0207 111 6162 (+442071116162)
Click here to use the Email-a-Psychic Service.
Text CHARM and your question to 78887 (UK) OR 57777 (ROI). First 3 messages are FREE for new users (UK,18+)

Russell Grant's Live Psychics and Mediums
Simply click here to make an online booking. Choose from various minute packages.

The more minutes you buy, the cheaper the calls. Buy a block of time and you can speak to as many readers as you wish - until your minutes have been used up.

FROM ONLY 99p per minute! Get a cost saving block of time now by booking online here - you will be able to hear your remaining minutes each time you call the access number.

From ONLY 99p per minute

Simply call 0906 539 0101. The call is charged at £1.50 per minute plus your phone provider's access charge - speak for as long as you wish to the reader of your choice. The call is billed to your telephone. Call durations are limited to a maximum spend of £45 per call.

SERVICE ONLY AVAILABLE WITHIN THE UK. If you are calling from outside the UK - please book a reading online, or call a receptionist on the numbers listed to the left.

From £1.50 per minute

Our team of friendly receptionists will be able to book your reading with the psychic of your choice - or recommend a reader for you.

Call:
020 7111 6106 to speak to one now. They will connect you to your chosen reader.

Calling from outside the UK or mobile?
Dial +44 207 111 61 06

Local Country Numbers:
Australia: 028 015 5846
USA: (315)-955 6581
Spain: 95 119 0243
Argentina: 11 523 913 27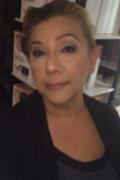 Molly
I have over 35 years experience specializing in all aspects revolving around love especially. I also specialise in career, finances and past life regression. I look forward to helping guide you through the hardships of life. Let me use my gifts by blending their inspiration and life experiences to create a well-rounded guidance that concentrates on self-discovery and interpersonal relationships. It is my goal to help you access information about your life, relationships, and career issues in a way that is most meaningful to you When working with me. That is why it is important for us to keep working together. I enjoy my callers by helping others to live a life of emotional peace and harmony. I look forward to connecting with you.
I'm available to speak with you now.
Book a reading online now by clicking here
or call on 020 7111 6106 to book via a receptionist using a credit or debit card reading.
Call direct paying by phone on 0906 539 1418 (£1.50 per minute/18+) and quote my Pin number: 4146.
---
Amelia
Amelia is an inherited psychic, clairsentient and empath. She gives straight forward in depth readings without imposing on your free will. Amelias readings are empowering & focus on providing insight,balance & perspective in personal, relationship & career areas-helping some clients connect to their inner path. Skills: psychic,tarot,divination,crystal healing,relationship dynamics,career & business queries, house move, dream interpretation,dowsing, astrology,relocational astrology,animal totems/guides, numerology, tattwa & I Ching. Your truth lies within you. She is a TABI registered Tarot Reader.
Sorry, I'm not working at the moment
---
David
David has been psychic all of his life, he insists that we all are but for most people it remains hidden from the conscious. He rarely asks questions of his clients as he is aware that his emphatic nature will unconsciously try to interfere with the messages that he has for his client and may try to influence the reading by telling the client what they want to hear rather than what he truly feels is going to happen. His first responsibility is to tell the truth so that his client may profit from it. If it is over it is best to know that it is so that the client may start to move on. If the business venture is troublesome it is best to know so that the client may start to consider an alternative .Furthermore if he gives a very happy and optimistic reading the client will have more confidence in its veracity as he has given it without any prompting. Up to 50% of his clients are return callers.
Sorry, I'm not working at the moment
---
Evangelica
Evangelica is sensitive to the Karmic information contained within the energies, and with the help of her guides and soul-group, Tarot cards and crystals she can give you the best advice possible to help you with your problems. She will also explain the potential outcome and what to expect from relationship difficulties based on the Karmic information contained within your energy field. Evangelica specialises in all types of relationship issues, soul-mate connections, careers and life in general and is rated 10/10 by many of her clients.
Sorry, I'm not working at the moment
---
Frances
Frances is a Gifted Medium who has had years of experience and id say she knows her stuff well based on feedback from recent calls. I had an accurate reading with her and was pleased with the things she picked up on about me. Next time you need to speak to the other side give this lady a call. She is worth the effort!!!
Sorry, I'm not working at the moment
---